News
2014 Board of Directors election
[November 10th, 2013 by Jani Soderhall]
Four positions are up for election before the end of the year and we are currently looking for candidates to fill these positions. Candidates are welcome to contact any of the current BOD members for more information.
European Indoor Slalom Championships
[November 10th, 2013 by Jani Soderhall]
The ISSA has awarded the European Indoor Slalom Championships to be held in Düsseldorf, Germany, December 14-15, PRIME status.

Donald Campbell of Pavel Skateboards, is running the show and has booked an indoor facility next to his indoor skatepark "The Factory" and will be running tight and hybrid slalom along with a 50 cone world record attempt.

Forum topic:
viewtopic.php?f=85&t=8776
ISSA World Championships, Texas
[October 13th, 2013 by Jani Soderhall]
Late night hybrid finals Saturday - with the top Pros from US and Europe!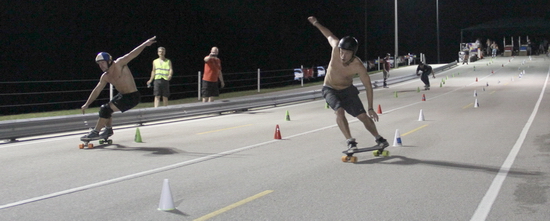 Viking Hadestrand (SWE) up against Janis Kuzmins (LAT)




Viking Hadestrand (SWE) up against Joe McLaren (USA)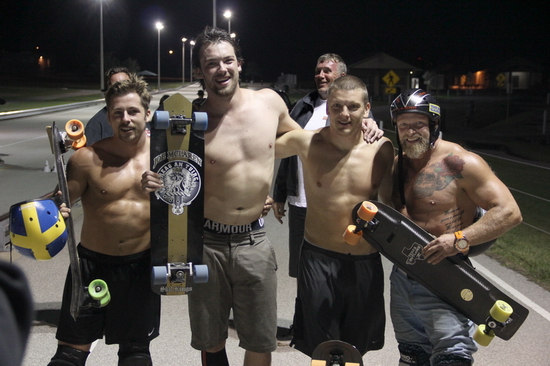 Left to right: Viking Hadestrand (2nd), Joe McLaren (1st), Janis Kuzmins (3rd), Mika Hadestrand (4th)

More photos over at:
viewtopic.php?p=78539#p78539

Sunday update: At noon the rain is still pouring down and no blue sky anywhere around. It's unlikely we'll see any racing today. But let's not give up hope just yet.
WORLDS 2013 - Hybrid slalom results
[October 13th, 2013 by Jani Soderhall]
2013 ISSA World Championships
Results, Hybrid slalom

PRO

1. Joe McLaren, USA
2. Viking Hadestrand, SWE
3. Janis Kuzmins, LAT
4. Mikael Hadestrand, SWE
5. Louis Ricard, CAN
6. Robert Thiele, CZE
7. Martin Reaves, USA
8. Pascal Rookie Jean, CAN

WOMEN

1. Lynn Kramer, USA
2. Lienite Skaraine, LAT
3. Judy Oyama, USA
4. Natalya Dudina, RUS
5. Madee Prez, USA

AM

1. Sebastian Vorhoelter, USA
2. Joseph "Kyle" Smith, USA
3. Pierre Hazera, FRA
4. John Stryker, USA
5. Patrick Brassard, CAN
6. Tom Kienitz, USA
7. Gabriel Duquet, CAN
8. Chris "Cfav" Favero, USA

MASTERS

1. Kevin Delaney, USA
2. John Ravitch, USA
3. Jonny Miller, USA
4. Brad Jackman, USA
5. Claude Regnier, CAN
6. Keith Hollien, USA
7. Hans Göthberg, SWE
8. Chris Chaput, USA

JUN

1.Petr Matous, CZE
2. Daniel Duquet, CAN
3. Oshean Lehrmann, USA
4. Hubert Roy, CAN
5. Nathan Favero, USA
6. Orion Lehrmann, USA

Full results and photos:
viewtopic.php?f=243&t=8771
WORLDS 2013 - Giant Slalom results
[October 12th, 2013 by Jani Soderhall]
2013 ISSA World Championships
Results, Giant slalom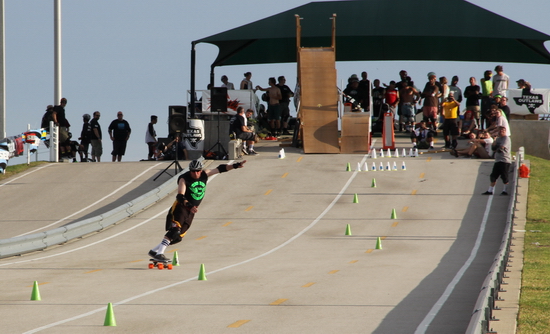 Paul Price celebrating his 50th birthday at the 2013 Worlds!

PRO

1. Joe McLaren, USA
2. Janis Kuzmins, LAT
3. Louis Ricard, CAN
4. Viking Hadestrand, SWE
5. Jonathan Harms, USA
6. Pascal Rookie Jean, CAN
7. Martin Reaves, USA
8. Mikael Hadestrand, SWE

WOMEN

1. Lynn Kramer, USA
2. Judy Oyama, USA
3. Natalya Dudina, RUS
4. Lienite Skaraine, LAT

AM

1. Joseph "Kyle" Smith, USA
2. Paul Chestnut, USA
3. Patrick Brassard, CAN

MASTERS

1. Kevin Delaney, USA
2. Jonny Miller, USA
3. Brad Jackman, USA

JUN

1.Petr Matous, CZE
2. Oshean Lehrmann, USA
3. Hubert Roy, CAN

Event topic, full results and photos:
viewtopic.php?f=243&p=78536
Kentucky Cone Fest - Results
[September 22nd, 2013 by Jani Soderhall]
Tight, top 4:

1. Joe McLaren, USA
2. Paul Price, GBR
3. Richy Carrasco, USA

Hybrid, top 4:

1. Joe McLaren, USA
2. Paul Price, GBR
3. Richy Carrasco, USA
Antibes World Cup 2013
[September 22nd, 2013 by Jani Soderhall]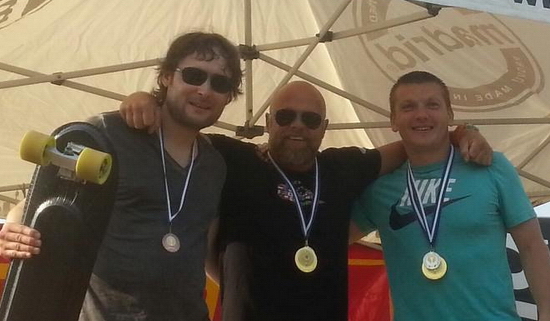 Special slalom, top 8:

1. Mikael Hadestrand, SWE
2. Janis Kuzmins, LAT
3. Stas Mironenko, UKR
4. Christopher Dupont, FRA
5. Christof Baumann, GER
6. Chris Schutz, GER
7. Michel Dupont, FRA
8. Zaccaria Di Giorgio, ITA
9. Pascal Weber, SUI
10. Robert Thiele, GER


Straight slalom, top 4

1. Janis Kuzmins, LAT
2. Mikael Hadestrand, SWE
3. Christopher Dupont, FRA
4. Chris Schutz, GER


Giant Slalom, top 8

1. Janis Kuzmins LAT PRO 43,972
2. Chris Schutz GER PRO 44,741
3. Mikael Hadestrand SWE PRO 44,794
4. Michel Dupont FRA PRO 45,026
5. Robert Thiele GER PRO 45,584
6. Christof Baumann GER PRO 45,694
7. Oleg Glushko RUS PRO 46,709
8. Petr Novotny CZE AM 46,744

Complete results here: http://slalomskateboarder.com/phpBB/vie ... 496#p78496
Peter Klock Slalom Skateboard World Cup, Results
[August 18th, 2013 by Jani Soderhall]
Hybrid Slalom, top 8
1. Viking Hadestrand, SWE
2. Mikael Hadestrand, SWE
3. Henrik Wadsten, SWE
4. Christoph Bauman, GER
5. Viktor Hadestrand, SWE
6. Louis Selby, GBR
7. Magnus Bobert
8. Paul Price, GBR

Tight Slalom, top 8
1. Viking Hadestrand, SWE
2. Mikael Hadestrand, SWE
3. Viktor Hadestrand, SWE
4. Christoph Bauman, GER
5. Henrik Wadsten, SWE
6. Paul Price, GBR
7. Emrik Larsson, SWE
8. Louis Selby, GBR

Giant Slalom, top 8:
1. Viking Hadestrand, SWE
2. Henrik Wadsten, SWE
3. Mikael Hadestrand, SWE
4. Christoph Bauman, GER
5. Viktor Hadestrand, SWE
6. Louis Selby, GBR
7. Magnus Bobert, SWE
8. Emrik Larsson, SWE

Complete results (forum topic)
viewtopic.php?p=78395#p78395
Policka 2013, results
[August 13th, 2013 by Jani Soderhall]
Overall:

1. Zdenek Mach [CZE] Sk8 Slalom Policka
2. Jaroslav Knettig [CZE] SK8 Slalom Policka, Meat Fly, T-Board, Longboarding.cz, FAT ANT bushings.co
3. Robert Thiele [GER] SlalomGangBang
4. Stanislav Nozka [CZE] SK8 Slalom Policka
5. Josef Stefka [CZE]
6. Jakub Knettig [CZE] T-board,meatfly, Sk8 Slalom Policka ?
7. Paul Price [GBR] Pavel Racing, http://www.utahpowdertours.com
8. Dalibor Danhel [CZE] SlalomGangBang Entity

Forum topic, with top 8 in each category:
viewtopic.php?f=85&p=78379#p78379

Complete results:
https://docs.google.com/spreadsheet/ccc ... sp=sharing
Euros 2013, Giant slalom and Overall results
[August 6th, 2013 by Jani Soderhall]
Overall, Pro, top 8

1. Joe McLaren, USA
2. Janis Kuzmins, LAT
3. Viking Hadestrand, SWE
4. Dominik Kowalski, GER
5. Mika Hadestrand, SWE
6. Christoph Baumann, GER
7. Robert Thiele, GER
8. Ferdinand Lindner, GER

Overall, Women, top 4

1. Kathrin Sehl, GER
2. Lienite Skaraine, LAT
3. Natalya Dudina, RUS
4. Anna Gailite, LAT
5. Eliza Gailite, LAT
6. Erika Schoirfer, FRA
7. Tezzan Redman, SWE
8. Ella Roggero, GBR

Overall, Amateurs, Top 8

1. Sebastian Vorhölter, GER
2. Edijs Jermacenko, LAT
3. Daniel Navarro Fernandez, SPA
4. Andrey Uzhegov, RUS
5. Bart Brunninkhuis, NED
6. Marc Camelan, FRA
7. Pierre Hazera, FRA
8. Alfonso Pérez Villalpindo, SPA

Overall, Masters, Top 8

1. Henrik Wadsten, SWE
2. Emrik Larsson, SWE
3. Peter Klang, SWE
4. Federico Malventi, ITA
5. Magnus Bobert, SWE
6. Jani Söderhäll, SWE/FRA
7. Sam Gordon, GBR
8. Pelle Plast, SWE

Overall, Juniors

1. Petr Matous, CZE
2. Toms Dreiblats, LAT
3. Zaccaria DiGiorgio, ITA
4. Vincent Kitzhöfer, GER
5. Melle Stork, NED
6. Max Thiele, GER
7. Vitek Hromadko, CZE
8. Matej Stefka, CZE
9. Alexei Soderhall, FRA
10. Feliz Thiele, GER
11. Dimitri Soderhall, FRA

Giant Slalom, Pro, Top 8

1. Joe McLaren, USA
2. Dominik Kowalski, GER
3. Viking Hadestrand, SWE
4. Janis Kuzmins, LAT
5. Christoph Baumann, GER
6. Robert Thiele, GER
7. petr Janousek, CZE
8. Mika Hadestrand, SWE

Giant Slalom, Women

1. Kathrin Sehl, GER
2. Natalya Dudina, RUS
3. Anna Gailite, LAT
4. Eliza Gailite, LAT
5. Lienite Skaraine, LAT
6. Erika Schoirfer, FRA

Giant Slalom, AM, top 8

1. Sebastian Vorhölter, GER
2. Edijs Jermacenko, LAT
3. Daniel Navarro Fernandez, SPA
4. Andrey Uzhegov, RUS
5. Alfonso Pérez Villalpando, SPA
6. Marc Camelan, FRA
7. Bart Brunninkhuis, NED
8. Harry Phelps, GBR

Giant Slalom, Master, top 8

1. Henrik Wadsten, SWE
2. Emrik Larsson, SWE
3. Peter Klang, SWE
4. Magnus Bobert, SWE
5. Sam Gordon, GBR
6. Federico Malventi, ITA
7. Peter Pletanek, CZE
8. Robert Gaisek, SWE

Giant Slalom, Juniors

1. Petr Matous, CZE
2. Toms Dreiblats, LAT
3. Vitek Hromadko, CZE
4. Zaccaria DiGiorgio, ITA
5. Max Thiele, GER
6. Vincent Kitzhöfer, GER
7. Melle Stork, NED
8. Matej Stefka, CZE
9. Feliz Thiele, GER
10. Alexei Soderhall, FRA
Page: 1,
2
,
3
,
4
,
5
,
6
,
7