Anatoly Matsukevich
St Petersburg, Russia
Born 1957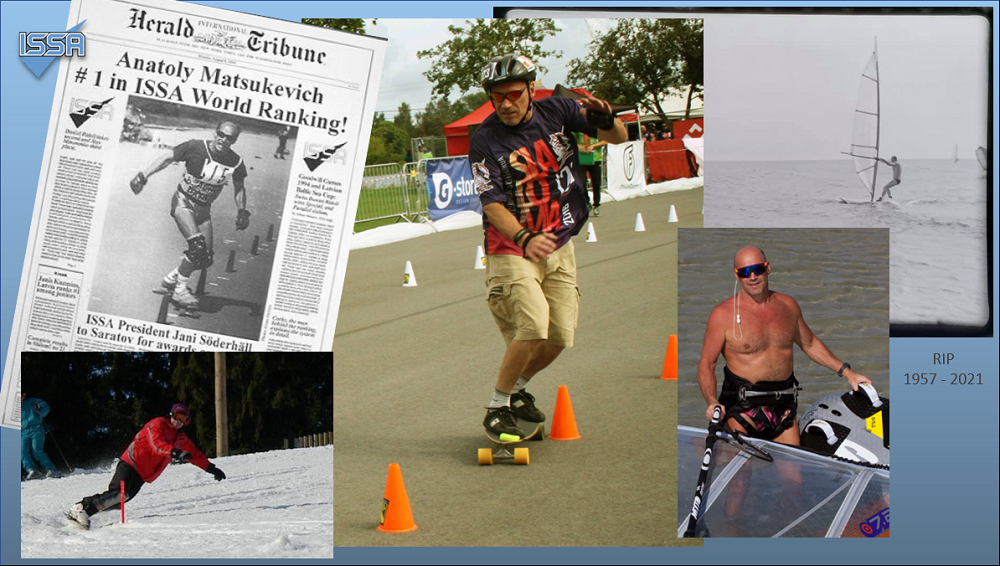 It is with profound sadness we've learned of the recent passing of Anatoly Matsukevich, Russian slalomer of Saint Petersburg, at the age of 64.
For those of you who may not have met or known Anatoly, he was THE number 1 Russian slalom, and on the local scene, he was pretty much unbeatable for a good number of years. Sharing his love for the sport across the former states of the Soviet Union, the popularity of slalom racing spread, and eventually, younger talents in Latvia, Ukraine, Russia, Estonia, and Lithuania started reaching his skill level and occasionally leaving him a millisecond behind. For those who achieved that accomplishment, those moments are well remembered. And it didn't happen many times, in fact, they could certainly be counted on the fingers of one hand.
Who would have thought that such an American sport would, or even could, gain any popularity in the Soviet Union in the 1980s? Somewhat surprisingly it did, even behind the old iron curtain. With no possibility of importing skateboards, millions of completes were made locally and these boards had amazing steering abilities, with high, unstable trucks with soft bushings.
These decks, from brands such as Rula, gave the locals an edge when it came to extremely tight slalom courses, and among the classic ones are 100 cones set 1 meter apart (just over three feet), probably nobody ever beat Anatoly in that discipline. The English were famous for tight courses, but in Saint Petersburg, Anatoly was pushing for ever more complex courses. And why put the cones in a line, when you can place cones put pretty much anywhere. The figure slalom discipline was invented, with cones placed at around 1 m apart, often in a somewhat symmetrical pattern. Anatoly excelled once again, with turns and elegant pirouettes unimaginable on any other type of skateboard.
When the first ISSA World Ranking was published in 1994 Anatoly became our first ever #1 ranked slalom racer. His perseverance and passion was officially recognized!
Other passions of Anatoly were windsurfing and snowboarding and he was teaching also in those sports. Active in snowboarding, Anatoly was handpicked to participate in the volunteer force at the 2014 Sochi Winter Olympics where he was working the slopes preparing for the world elite in yet another slalom discipline.
With the revival of slalom racing in the 2000s, Anatoly was once again back on the racing scene and sometimes travelled to international events including several World Championships and European Championships. Although he would no longer be able to claim any victories his motivation and passion was always present.
Anatoly leaves behind his wife Nina, daughter Dina and son Slavik.
Our thoughts are with his family at this difficult time.
Legends never die!
Rest in peace, dear Anatoly.