Moderator: Stan Strocher
Morro Bay Skatemuseum

Posts: 736
Joined: Fri Aug 23, 2002 2:00 am
Location: Morro Bay, California
Contact:
This is the set-up I rode at JPL #6.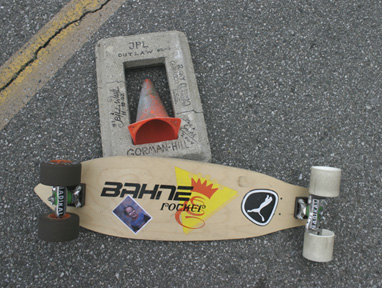 ---
ByrdDog

Posts: 227
Joined: Wed Sep 18, 2002 2:00 am
Location: Madison, Mississippi
Congrats Jack! Awesome!
Are those 101's on front and Avalons on the rear. Did the course help you decide to go with those fronts? No big offsets in the course, so you felt you could run those without wheel bite?
---
Morro Bay Skatemuseum

Posts: 736
Joined: Fri Aug 23, 2002 2:00 am
Location: Morro Bay, California
Contact:
Thanks Ricky.

I started thinking about my performance at JPL #5 and wondered if I could run some big a** wheels on the front to help carry speed through the bottom of the course.

I set-up my Rocker with Radikal, front and back. Wedged riser plus the Radikal metal riser in front. Quarter inch riser in back. 80A Avalons in back. In the front 92mm x 75A Flywheels. After my first timed run I switched to Avila 80A's on the back.

When I finished building this monster in my garage I stood back, looked at it and started laughing, it was ugly! When I stood on it I laughed even harder. I also received some funny looks at the hill. One thing the set-up forced me to do was keep weight on my back foot.

There were some offsets on the course, which was very fast. I didn't experience a slip all day long.
---
Posts: 74
Joined: Tue Mar 18, 2003 1:00 am
Location: Bombora's, California
I believe we have officially entered The Age of the No-Flex Slalom Board.

Congrats, Jack!
---
Good for you Jack!

What were the complete results of the JPL race? I'm assuming you won since your showing the throphy with your rig.

That is a monster Bahne. Great that you thought of a different setup than what everyone else has been doing, and for such a radical GS course too.

Looks like you've cut down the original "Bahne Rocker" shape to be more like the Blackhill, yes? Does it flex for you much in that shape? Any plans on putting out a Bahne deck like that for the public?
---
Morro Bay Skatemuseum

Posts: 736
Joined: Fri Aug 23, 2002 2:00 am
Location: Morro Bay, California
Contact:
Glen, yep I was lucky to pull out the win.

The shape is a slightly modified Black Hill cut out of a Bahne Rocker. Very little if any flex at all. If I had enough requests I would make the deck available for purchase.

Here are the results:

1. Jack Smith 24.80
2. Attila 24.89
3. Hackett 25.11
4. Michael Kaelon 25.34
5. Mike Gorman 25.46
6. Tiger Williams 25.85
7. Adrian Pina 26.26
8. Tony Magnusson 26.44
9. Rick Howell 26.50
10. Lynn Kramer 27.21
11. Dave Hamm 27.26
---
Jack you have definitely made a leap in your racing with this win. But you were probably not racing as much as you'd have liked too in the past few years when focusing on organizing major races. Did you race in the Pro class at any of the races last year? And if not, I would imagine you might this year yes?

Also did you approach racing this JPL course differently than any of the other times you've entered it? You've used that Bahne Rocker deck every time you raced before at JPL - yes? Maybe the Radikal trucks and the wheel choice gave you added confidence to push start harder and pump harder through the course? Were you push starting faster/harder into the course this time? Was there anything different to your actual racing approach besides the deck setup? I can't see a win, at a fairly radical GS course like JPL, given credit solely to the equipment. It had to be more than that. Let us in on your secret.
---
Morro Bay Skatemuseum

Posts: 736
Joined: Fri Aug 23, 2002 2:00 am
Location: Morro Bay, California
Contact:
Glen, I raced Open Class at Breck and the Worlds last year. I have not decided if I will race Pro or Open this year.

This was my third race at JPL, I have become more confident with each race. Yes, I have used the Rocker at JPL before. The Radika trucks are amazing, I truly believe that increase traction. I was very nervous about rinning the ABEC 11 92mm wheels. As I mentioned before I didn't have a slip all day. By my third timed run I was pushing into the course as hard as I could. Atilla and Hackett pushed me to the limit.

Another little trick...I kept an eye on the trees above the course for wind shifts, I also kept a handful of grass/weeds at the ready. When I would see a wind shift in the trees I would throw the grass/weeds into the air to see what the wind was doing at course level. Since this was a race that allowed you to take your runs whenever you were ready, I made sure to stand right next to the starting box, padded up and ready to go. When I felt the wind was an advantage I jumped in the box and took off!

There were also a couple of places on the course where I tucked.
---
Pat C.

Posts: 1400
Joined: Mon Sep 16, 2002 2:00 am
Location: Portland Oregon
Jack:

That's cheating to use your knowledge of the wind and thermal cycles to gain an advantage over the rest of the group! Waiting for the right cycle before launching ... what do you think this is -- a hang-gliding contest? Pretty soon, you'll be watching for swallows feeding on insects to pick the right time to go.

Really: kudos to you for applying your hang-gliding experience to a skateboard race.

BTW: Anybody yet launched a paraglider or hang glider from a road on a skateboard?

-- Pat
---