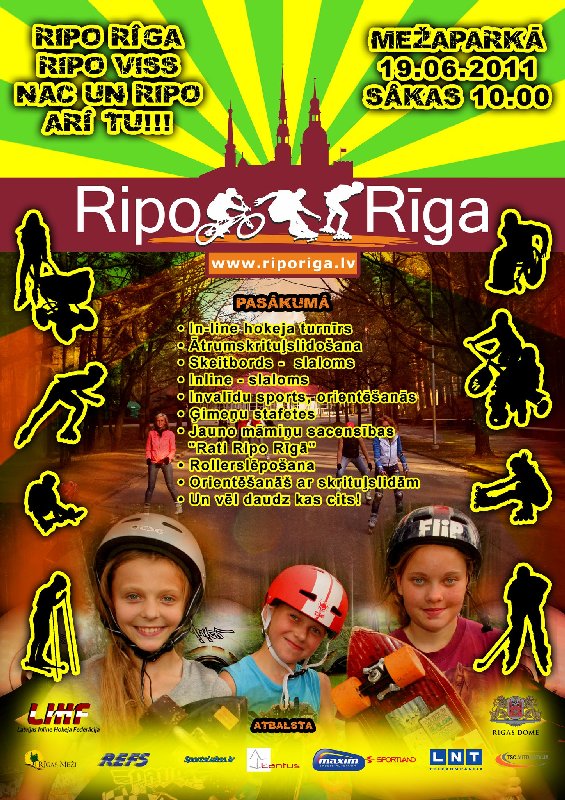 Gints Gailitis memorial cup / ''Ripo Riga'' 18-19 June, 2011
Gints Gailitis memorial cup (MAIN status) will be a two day slalom skateboarding event, second day will be a part of sports festival ''Ripo Riga'' (something similar to ''Desaxe World ride'' in Grenoble) with inline hockey, speed skating, inline slalom, street skateboarding, Paralympics basketball, orienteering, relays for families and other activities.
The main idea of the festival is to show these sports to public and promote active lifestyle for families. My father was one of the main promoters to make this happen – with his confederates they won support from city council in February, so they didn't have much time till the beginning of the festival (that is why some things are still incomplete and late).'
HOTEL
There is a special offer from ''Days hotel Riga''
http://www.dayshotelriga.com/
- I would recommend to all racers from abroad to stay there. This elegant city hotel is located on the main street of Riga, only 10 minutes from the old town.
The price for 1 night per person in double room (with breakfast) is 25euro. To use this offer please inform me (you can't use the offer via their home page – I need to say them who and for how long is going to stay).
ROUGH SCHEDULE
Day 1 - Saturday: from 11:00 – 16:00
Day 2 - Sunday: from 10:00 – 18:00
PROGRAM
Day 1 – Giant slalom at biathlon centre "Priekuli (approx. 90km from Riga – there will be a shuttle bus from/to hotel).
The course will be on a slope (~8%), 50-60 cones, 2,0-6.0 m apart.
The course will be set in the moring of competition or the day before by locals + one racer from abroad.
Day 2 – Tight slalom and special slalom in Mezaparks as a part of ''Ripo Riga'' festival.
I still need to confirm exact race place, but looks like it will be on flat.

REGISTRATION
There will be a combined registration for all sports and it will start during next week.
Entry fees:
OPEN: 30 euro
Women: 15 euro
Juniors: 10 euro
PRIZES
Right now looks like we will have money for top3 Overall OPEN:
1. 300euro
2. 200euro
3. 100euro
+ cups, medals, sponsor goodies for them and other podium finishers too.
There will be a special poster for the skateboarding, same with the list of sponsors till the end of the month.
More info on application form:
http://www.slalomskateboarder.com/ISSA/ ... 1-MAIN.pdf
The race will be organized by Latvian skateboarding federation.
If you have any questions, write me PM, e-mail me
gustavsgailitis@inbox.lv
or write me on Facebook.
My cell phones :
+371 28201459 and +371 29179924