20 years ago, Brno hosted the European Cup parallel slalom. Participated in the slalom racer from Italy, Czech Republic, Germany, Soviet Union, Bulgaria, Estonia, Latvia.
The picture shows they are actors who participated in the slalom 20 years ago and yet some.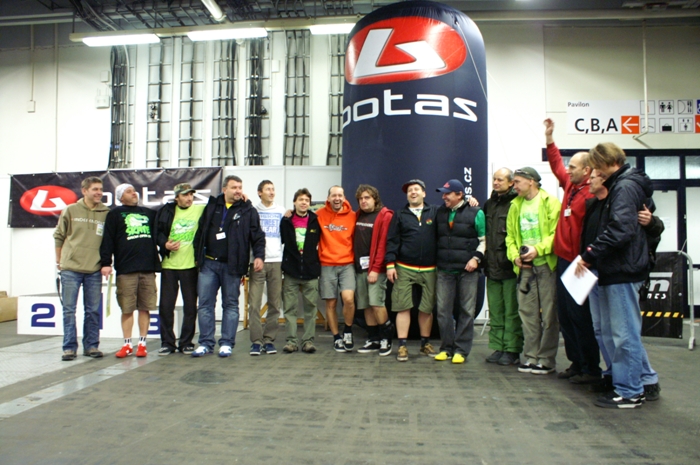 Results: Euro Cup Brno 1989 parallel slalom
1.Paolo Gatti ITA
2.Josef Stefka TCH
3.Massimilano Caposio ITA
4.Martin Tuma TCH
5.-8.Petr Klapka TCH
Gianluca Ferrero ITA
Ivan Rohanek TCH
Mike Ernst FRG
9.Aleksandro Quregna ITA
10.Axel Keinhans FRG
11.Martins Vidzenieks LAT
12.Dalibor Daniel TCH
13.Ivo Skrabal TCH
14.Tomas Hnat TCH
15.Jurij Fomin URS
16.Peter Portnov URS
17.Tomas Potucek TCH
18.Aleksandr Paseshny USR
19.Kalev Kartner EST
20.Kaupo Kukli EST
21.Leonardo Leonardi ITA
22.Gints Gailitis LAT
23.Ivailo Pavlov BUL
24.Martin Kulhavy TCH
25.Juris Simanovich LAT
26.Martin Boemfeld FRG
27.Rauno Kivistik EST
28.Jan Sik TCH
29.Kaido Kukli EST
30.Atanas Petrov BUL
31.Kaido Kerik EST
32.Alexei Suhorukov USR
33.Uldis Tolks LAT
34.Erik Raitviir EST
35.Tibeo Ovecka TCH
36.Dan Pek TCH
37.Janis Birznieks LAT
38.Dainis Skogals LAT
39.Sandra Kristapsone LAT
40.Janis Dauksts LAT
41.Hannes Reinula EST
It was a great race, which involved raiders 5 East block countries.
Gints