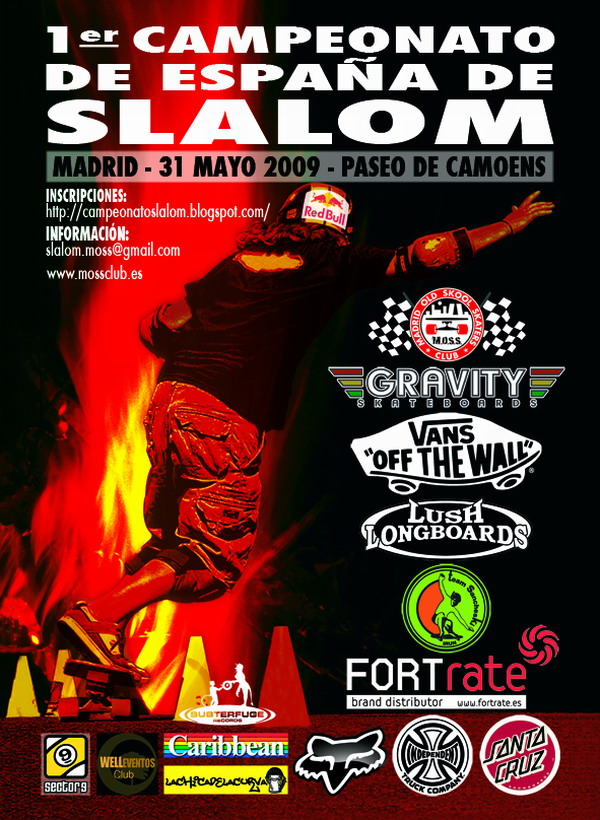 Sport association Madrid Old School Skaters (MOSS), with the support of Gravity, Vans, Red Bull, Caribbean, Santa Cruz, Independent, lachicadelacurva and many more, presents the First Spanish Skateboard Slalom Championships which will be held –weather permitting- form 9:00 to 19:00 on May 31st in Paseo de Camoens (Parque del Oeste), Madrid.
The competition will consist on a series of Skateboard Slalom races (Initiation, Straight, Special), plus a Longboard Freestyle event. On top of racing and competition, we will have music, entertainment and merchandising, courtesy of our sponsors. It'll be a big skateboard party!
Competition is already open for inscriptions at
http://campeonatoslalom.blogspot.com/
(in Spanish). All skaters no matter skill level, age or sex are welcome. There will be special prizes for girls and juniors.
Our aim is to consolidate this championship over time. We are currently also organizing a Spanish Slalom Circuit, of which this event would be the first race. We also aim to include this event into the ISSA circuit in the near future.
For further details, check our inscriptions page, send us an email to
slalom.moss@gmail.com
Madrid Old Skool Skaters (MOSS) is a non for profit sport association registered in the Comunidad de Madrid. It was funded and it is run by skaters to promote and improve skateboarding' social perception and return to its original values: enjoyment, sensations, community, ecology and respect. More information at
www.mossclub.es
_________________
Skate Hard While You Can
www.40sk8.com