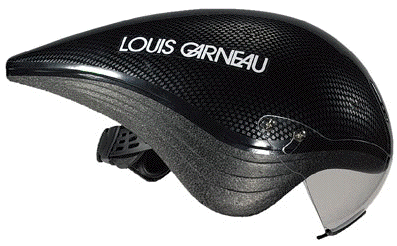 About 10 years ago, I traded John Gilmour a compact full faced aerodynamic helmet (different from the one below) for a quiver of Hyper wheels. I was using that helmet to run cones, albeit solo in Arizona.
The audacity to use an aerodynamic helmet came from my hang gliding. Cutting down on aerodynamic drag over the course of a cross country flight increases performance allowing one to reach farther in glide.
Skateboard slalom?
Depends.
For some of us, cutting out Sourdough Bacon Burgers would far and beyond outweigh the simply addition of a a "helmet fairing."
I think if I were at the top of the stack, I would DEFINITELY use the aerodynamic advantages of a faired helmet and a "skin suit" so to speak.
Raw talent will prevail but once we grow the sport out of the few hundred racers and the LARGE differences in performance, technology will be an important choice.
For those of you who are serious enough to purchase $1,000 skateboard slalom boards, I predict that you will at a minimum look at aerodynamics as we move into the future.
The above is
one
possibility, around a hundred dollars US.
Performance should take precidence.
There should be no peer pressure dictating what you should look like.
Just a thought...