For no other reason than I'm bored around here at night, I've decided to take up a new hobby: course diagrams. My plan over the next few weeks is to draw a few different courses, make them available here on the forum for anyone to download for their own use. Although I don't expect these courses to be considered competition approved, they certainly should give the novice some idea of what to expect with the demandsof contemporary racing.
This first diagram tries to shed some light on what is called the "Gilmourian Curve." John likes to set courses that makes no sense and sometimes it takes a picture with arrows and circles with a paragraph on the back of each one to make it clear. In all seriousness, what is sometimes confusing about the "Gilmour Curve" is that you will find yourself in the middle of it going to the "wrong side" of a cone. In order to make the course, you will go from cone "A" to Cone "C" by skimming to the INSIDE of cone "B". This will distract a rider who hasn't faced it before and the best way to get around this new experience is to PRACTICE. Here's something that will make it more understandable: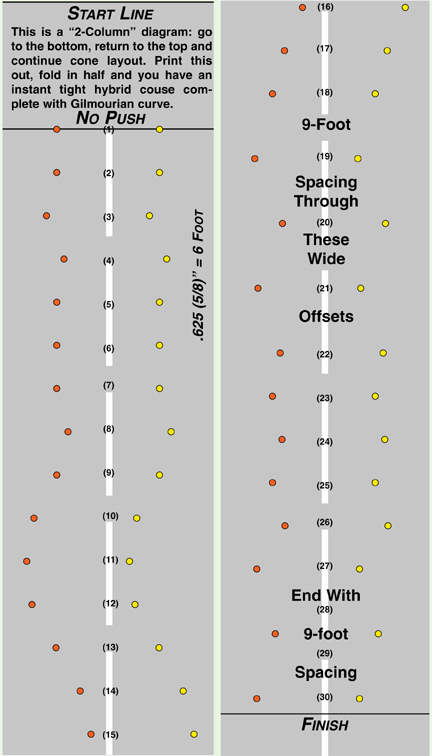 Print it out, put it in your pocket and go find a stretch of asphalt to lay it out. Maybe you'll like it, maybe you won't. The good thing, though, is that you'll be riding something different than what you and your friends have been riding. The best way to expand your racing skills is to avoid getting into a rut and riding other courses.
I've got a few more I'll throw down this weekend. I especially want to draw up a single lane Giant Slalom. That'll be next.