I'm a firm believer the only way to get better at anything is to PRACTICE. This explains why I am such a lousy piano player and worse with the trombone: I never practice. Sometimes, though, providing the necessary means to accomplish some endeavors requires extraordinary measures.
Thus was my plight when it came to RAMP STARTS. No doubt about it and no need to hedge one way or the other: I SUCK ON RAMPS. I'm not embarrassed or recalcitrant because of my lack of transition skills, just realistic. I don't ride ramps, don't execute transtions so why would I have ever acquired any sort of skill to do it?
Unfortunately, it's becoming very clear that to compete in the 21st Centuary at slalom skateboard racing at the national or even regional level then a strong, consistent, aggressive ramp start is needed to at least belong in the ball game. Getting three runs before a race is not the time to practice when you're on the ramp and 30 skaters are lined up behind you waiting for their turn. Besides, race day is NOT the time to start figuring out what it takes to be in the race. Race practice is about learning the course and determining the fastest line, what to criddle and when to double pump. So what's it gonna take to do all that? Simple: gotta have a ramp for practice.
So I built one.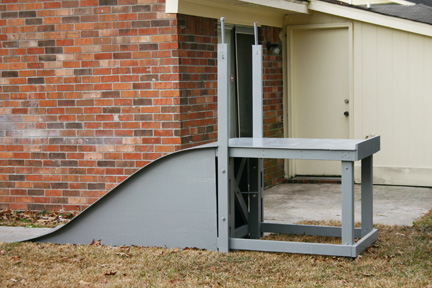 It's not really that big of a deal if you have a storeroom full of power tools and the ability to decypher some simple plans. I e-mailed Byrddog and asked for a copy of his ramp layout and he was quick to forward a copy. After that it was just a matter of measuring, sawing, drilling and nailing. Total cost in parts was about $100 with a big chunk of that going to a gallon of primer and a gallon of polyurethane deck paint. Like I said, this is really kind of easy if you got the tools. If someone tried this, though, with just a handsaw and a hammer, we'll send a coroner later to gather up the fossilized remains and say words over your grave!
I got a pretty decent spot for the ramp. It's permanent and is for nothing else than to get on, get down strong and get off. Over and over. I have a long, wide driveway to the street and a sidewalk coming off that to the back of the house. So It's about 120 feet of concrete. Just long enough to lunge hard and run out without heading into the street. It's nowhere near long enough to set more than two or three cones, but more than enough for practicing ramps starts. That's all I need. Oh, and did I mention I have to figure out some sort of technique for skating in a parallel stance and getting down a ramp?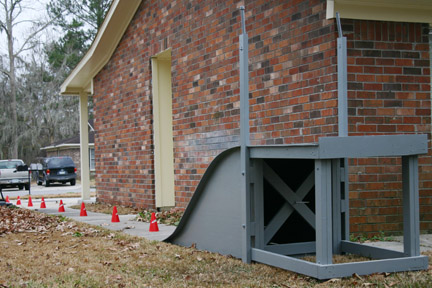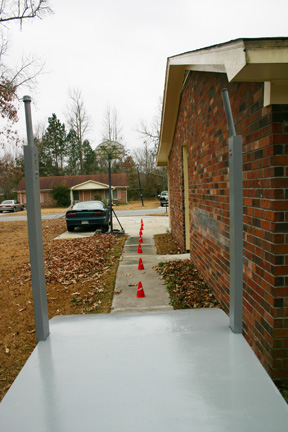 I was always intrigued how Bobby Piercy got down a ramp with his stance. I've seen him on a ramp at the start in several photographs and a few photos of his down the course long after the start. Never saw a photo of his on the ramp and transitioning. Then, I saw the WIDE WORLD OF SPORTS rerun of the Catalina Classic on ESPN CLASSIC. Piercy raced Hutson off a start ramp and won! . . . he also skated down the street in Avalon with a wide open surf stance. He didn't use any sort of parallel accommodation to get down the ramp. So I don't know what he did.
I figure I got two options and have to settle on one or the other as a race technique. One is to stand on the ramp in a solid parallel stance and then figure out how to transition down the ramp in such a posture. The other is to work on something Bobby Damnarino suggested to me in Georgia in 2003 that I really want to work on: Place one foot on the board in the proper position and the other farther back for a more stable stance for coming down a ramp. Then, immediately upon hitting the street, sliding (or slamming quick) the back foot FORWARD to it's position farther up the board. Beats me which will work best, but I've now got the means to work it out!
At least I'll have the opprtunity now to work out something that might allow me to keep racing the way I like and be able to take full advantage of the race experience without appearing to be a total waste of white meat.
This may sound a little specious, but I'll certainly make this offer anyway. Anyone who feels like they also need any time to work on their starts, their transitions, their reaction time on a ramp or anything related to this aspect of racing is more than welcome to spend as much time as they please on my ramp. I know I live 500 miles from everyone and just "dropping by" isn't really an option for anyone, but making the offer is the best I can do. Of course, being 500 miles from everyone is the biggest reason I had to build my own ramp. It's not like I can run over to Byrddog's house or hang out with Tway and put some time in on their ramps. When you live in the wilderness (slalom skating-wise, that is,) you just gotta do what you gotta do.
I also want to say thanks to Mark McCree for offering to take up a collection at the Luna Slalom Jam so as to pay for me to get a start ramp for practice. After a couple of pathetic efforts trying to get off Byrddog's ramp, McCree yells out to a crowd of well over 30 skaters, "let's all make a donation and pay for Tucker to get a start ramp at home so he can figure this out!" I'm happy to say, though, that I was able to handle it without resorting to any sort of philanthropy.