My favourite travel companion used to be a Eurocana (Swedish skate shop) skatebag sized after the board, large enough to fit a board and a full set of protection and maybe a sweater or a few pieces of clothing.
When the bag wore out and the shop didn't exist anymore I really started missing it. It's true that nowadays the stuff needed for a slalomsession wouldn't fit in a single bag (it now takes a car), but I still think it would be neat if there was a good skatebag out there suitable for slalomequipment.
On a recent visit to St Petersburg, Russia I came across this bag used by one of the skaters.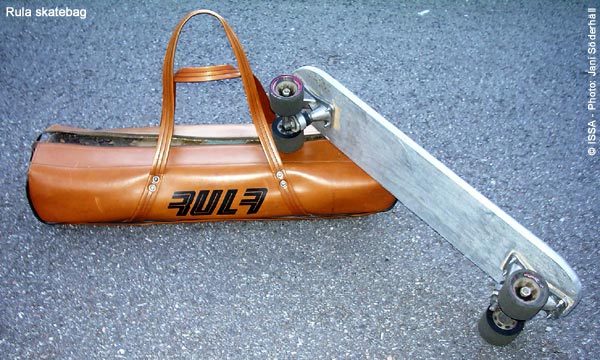 Rula was a brand of boards made in the Sovietunion. I think they were made in Estonia, which is now an independent country (like their neighbours Latvia and Lithuania).
/Jani