Hey Steve, if you're reading thru this, i finally got the Eurofighter set up. Love the board.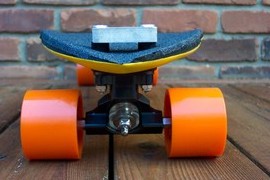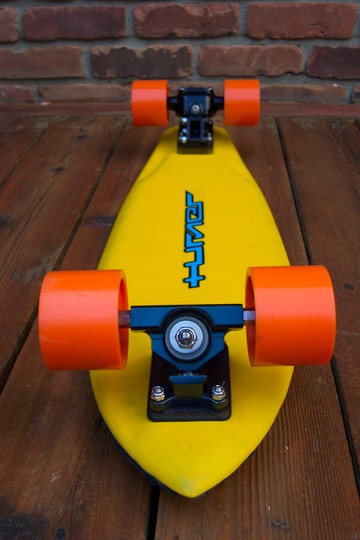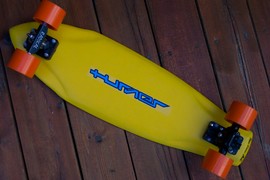 Here's my honest review for ya.
Cool flat finish...industrial looking, almost like colored primer. Only thing is i noticed that et got dirty easy, so i polished it a bit and it kept the finish, but fingerprints rub right off now.
Great camber, the wheelwells are well placed and the added room for the front foot is smart.
I'm not sure what this thing is made of exactly, but that bottom layer was a son-of-a-gun to drill thru. Top layer is about 1/16" thick, the bottom 1/32" and hard as nails. I'm sure that's part of the reason it weighs about as much as a pencil. (is that injected foam in there?)
I had to put a concave on it. By American standards the board is very small. I mean, this is the land where GS and 36" boards are king, so at 28" it was pretty small, but with the concave in front along with a toestop.....and a kicktail in back that wraps around the sides a little making a sort of "pocket" for the rear foot, it's very easy to get my footing.
I drilled it out to 19" and it's a great TS board....cant explain it, it just seems to snap back quick and feels "solid". Set up with a wedged Radikal in front, PVD in rear and i have trimmed Avalons on it now, it's a fine little set up.
thanks again!
(PS...some of the guys are wondering if youre going to come up with the same shape but in a larger size)