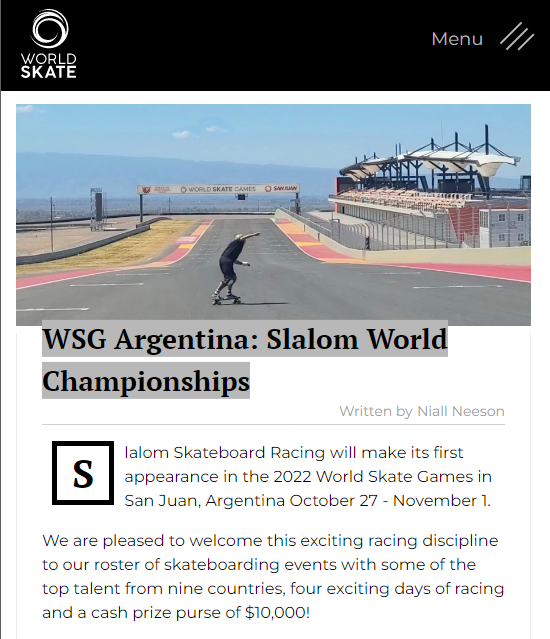 Slalom Skateboard Racing will make its first appearance in the 2022 World Skate Games in San Juan, Argentina October 27 - November 1.
We are pleased to welcome this exciting racing discipline to our roster of skateboarding events with some of the top talent from nine countries, four exciting days of racing and a cash prize purse of $10,000!
ABOUT SLALOM:
Slalom skateboarding is a form of downhill skateboard racing that first appeared in the 1960s and 1970s and made a world-wide resurgence in the 2000s. Racing events are electronically timed - so being the fastest through the course is the name of the game.
Adding to the challenge, competitors must navigate through a course of variously spaced cones while still generating speed - requiring technical strategy and high skill level. Staying clean through the course is a top priority as each cone hit carries a time penalty that will be added to the racers' run time.
Competitors are time-qualified and then seeded for elimination matches that conclude with the final winners of each event day - awarding titles and medals to the top finishers both men and women.
WHAT TO EXPECT:
The schedule for slalom skateboarding's debut at World Skate Games 2022 includes four exciting disciplines at two ideal locations in San Juan.
The first three days of racing will consist of head-to-head racing in hybrid slalom, special slalom, and straight slalom held at the San Juan Villicum Race Track.
These dual-lane drag-race style events will feature three different course styles - hybrid will offer varied cone spacing - winding through each lane with longer distance sections alternating with shorter distance sections, special will feature tight set cone gates that follow a winding path and straight will feature tighter set cones that follow a straight path. Each course style is designed to challenge the racers to employ different technical strategies while racing their opponent to the finish line - every fraction of a second matters and the winner moves on to the next round.
The fourth and final day of competition will consist of high-speed single-lane giant slalom racing on the long sloped road leading to the Punta Negra Dam. Cone gates will be set at longer varied distances with expected speeds of 40-55 km/h (25-35 mph) and the goal as always is to be the fastest one on the hill!
While winners will be crowned each day, the results of the four event days will be compiled to determine the Overall World Championship placings. The top five Overall finishers men and women will receive a portion of the $10,000 prize purse to celebrate their victory!
SLALOM SKATEBOARDING - SCHEDULE:
Thursday Oct 27 Training at the San Juan Villicum Race Track
Friday Oct 28 Hybrid slalom at San Juan Villicum Race Track
Saturday Oct 29 Tight slalom at San Juan Villicum Race Track
Sunday Oct 30 Special slalom at San Juan Villicum Race Track
Monday Oct 31 Giant slalom at Punta Negra
Tuesday Nov 1 Spare day
Events Friday-Monday (10:00 - 17:00) are open to the public - spectators are welcome!
VENUE INFORMATION:
San Juan Villicum Race Track in Albardón, San Juan, Argentina (coordinates: 31°23′55″S 68°34′03″W) is an ideal location with features such as:
- Stadium seating for audience
- Good downhill pitch
- Perfectly smooth and highly maintained asphalt
- Live "Jumbotron" viewing for participants and audience
- And many more exciting features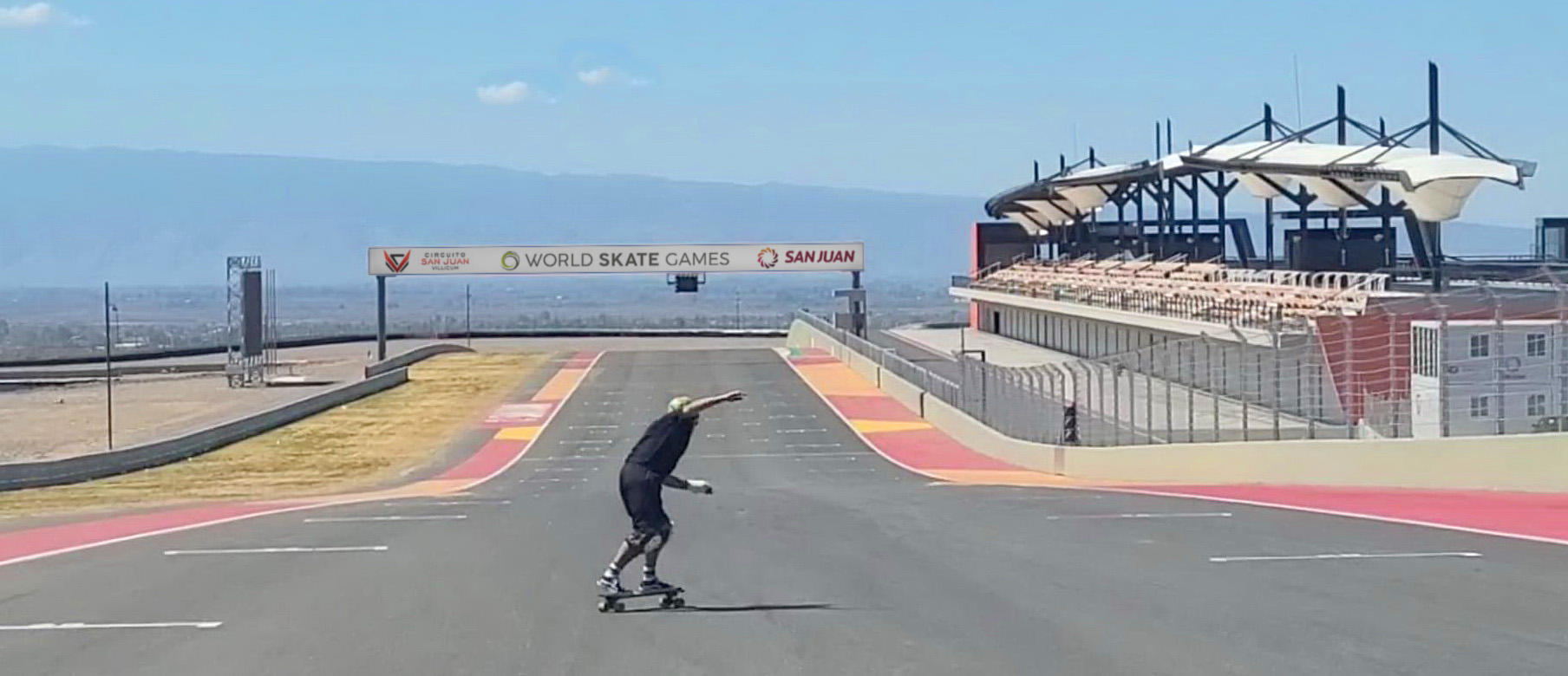 The San Juan Villicum race track seen from the starting point of the tight and special slalom. Hybrid slalom will start slightly higher up and features about a 200m slope down onto the race track starting area.
Punta Negra Dam Road - Aviadores Españoles, Punta Negra, San Juan (coordinates: 31.51523° S, 68.81059° W)
Some key features of the Punta Negra location include:
Smooth asphalt
- Long race course with mellow winding turns in the road
- Speeds reaching 30-40 mph
- Scenic backdrop with the San Juan mountain range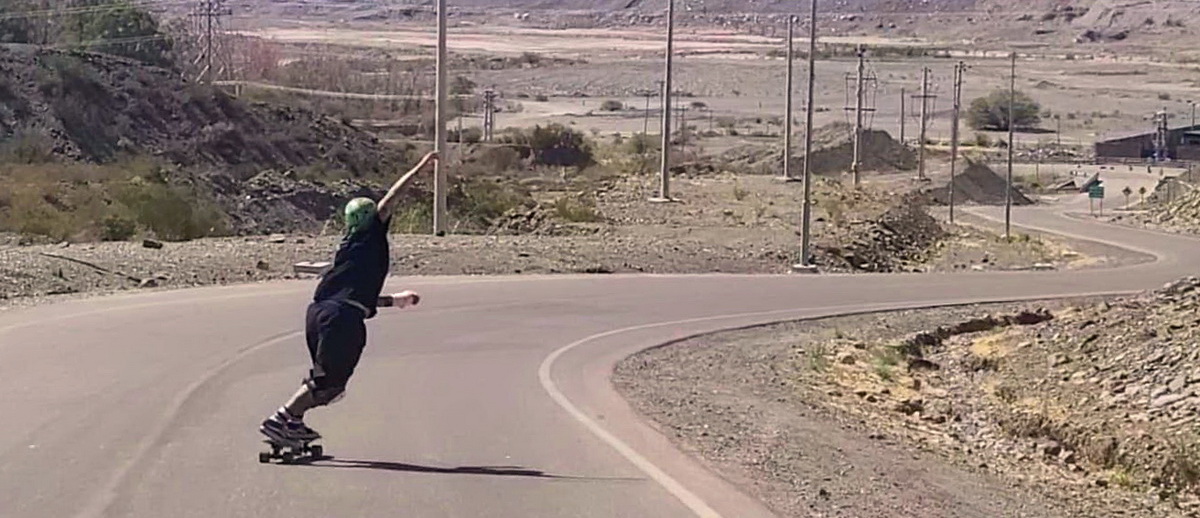 Overview of the lower part of the winding downhill section at Punta Negra will be used for single lane giant slalom.

Attendees are expected from the following continents:
North America, South America, Europe, Asia, and Australia
.
We look forward to hosting this historic first appearance of Slalom Skateboarding in World Skate Games!
Don't miss out on the action as this will be an AMAZING event for spectators and participants alike!
MORE INFORMATION:
For more information go to
www.wsgargentina2022.com
Instagram/Facebook: @worldskatesb
www.skateboarding.worldskate.org
#WorldSkateSB