- Introduction
We will run a slightly different race format on our slalomdisciplines than what most of you are used to.
The aim is to get more racing for the racers but in an efficient and balanced way.
Often the case is that most racers only get two runs and it's goodbye.
And the top 4 racers in H2H finals they get too much of it.
You who have been among the top 4 racers doing H2H finals knows what I'm talking about.
The last Semi Finals and the races for 3rd and 1st place is intense.
You normally have a hard time getting up to the start before it's your turn again to race.
Normally we give racers a breather in these situations but now we have a better solution for this.
This has very much to do with how we present our racing to the audience.
Normally we only race for ourselves and we do not think so much about it.
It's long days and often when we get to the end of the day when the best are racing audience have gone home. :-|
The biggest audience though is the ones who will look at a Webcast or a TV-production.
Webcast being a bit more loose and with TV-production being very strict and controlled timewise.
Those of you who have tried either Webcasting or TV broadcasting you events knows what it takes.
There has been a need to think through our racing format for these cases.
- We have only two classes. Men and Women.
- We have only one discipline per day.
- We have the luxary of having many days.
- We have an initial practice day for all to come in place with no stress.
- GS: We have a race format giving more racing for all.
- GS: We will try and produce mid times for the GS racing.
We have made this effort to bring some more exitement into a webcasted Giant Slalom race that can be a bit difficiult with many long single runs.
- GS: We will have also have Semis and Finals. Raced in order from slowest to fastest.
- Dual: We have a race format giving more racing for all outside of the top 8.
- Dual: Top 8 race as a normal H2H and not affected of the extra racing for place 9 and up.
- Dual: We give the chance for racers outside of Top 8 to have a more accurate placing.
Top 9 and up will be in a "Semi Qualification" with possiblility to better their placements by single placement steps.
And paired with a racers of the same level according to the two qualificaton runs.
Top 8 and up will not necessarily be stuck with the results from qualification.
- H2H: We have a lightened up the very stressful Semi and Third place/Finals racing in the H2H racing.
- We will have a H2H final Top 8 Men and Women intertwined. See detailed schema below.
This will ease up the top 4 Semi and Final part.
Giving some more time to top 4 racers having a breather while we still can keep up the action for the webcast.
This is how we have envisioned the racing at WSG.
- Giant Slalom
2 Qualification runs
1 Semi-final run. n racers ordered by results. Slowest to fastest.
1 Final run. Top 6 racers only.
- Duals (HS, TS Straight, TS Special)
2 Qualification runs
8 best riders directly in the H2H quarter final.
9 and up goes to the "Semi qualification".
2 Semi qualification runs
Racers ordered in heats by results. Slowest to fastest.
Number of heats may be limited depending on time situation.
If we are on time all racers will be able to run.
Top 8 H2H Final.
Women and Men (intertwined)
Detailed schedule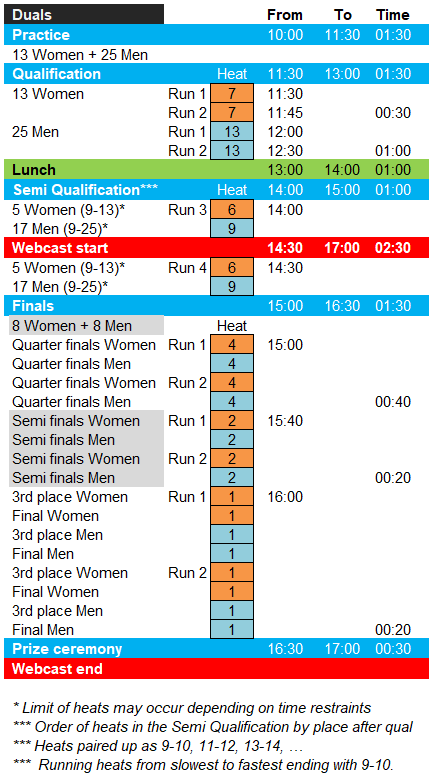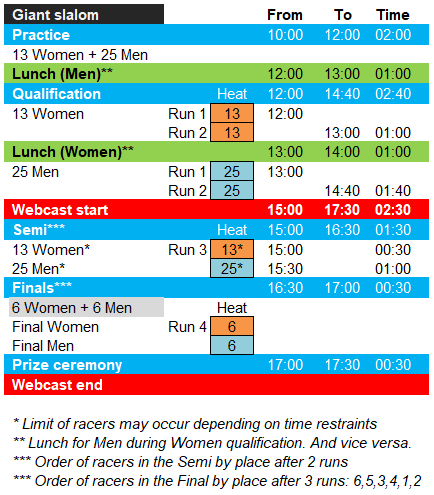 Q&A
There you have something to chew on during your travel.
You can ask questions here or in the chat.
I will try and gather all Q&A in this forum topic.
Note!
All original answered question posts will be deleted to keep it as compact as possible.
But the question text is always copied into the answer.
Questions may also come from the chat, e-mails or messages. That way all questions will be treated the same.