Moderators: Richy Carrasco, Maria Carrasco
Posts: 89
Joined: Sun Jan 28, 2007 2:29 pm
Location: France, Aquitaine, Bordeaux
Contact:
hello I'm just looking for the last sk8kings Ads
from concrete wave
thanks
---
SK8KINGS - ISSA Vice President

Posts: 465
Joined: Sun Jan 05, 2003 1:00 am
Location: Sunny So Cal
Contact:
Is this the one you seek?
I'm like the proud "Mom" here . . . couldn't be happier with my "Kids" . . .

Props to the rest of the team and entire AXE Army too!
Enjoy!
PS -- Lots of exciting projects underway . . . stay tuned.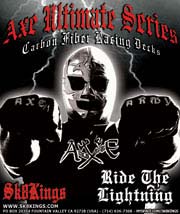 SK8KINGS.COM
---
Fred

Posts: 459
Joined: Thu Mar 18, 2004 12:21 pm
Location: Paris, France.
Exactly !
You can see Pierre on the third one just under the word "champion".
---
Posts: 89
Joined: Sun Jan 28, 2007 2:29 pm
Location: France, Aquitaine, Bordeaux
Contact:
thank you Maria
best regards
---