News post of 2011: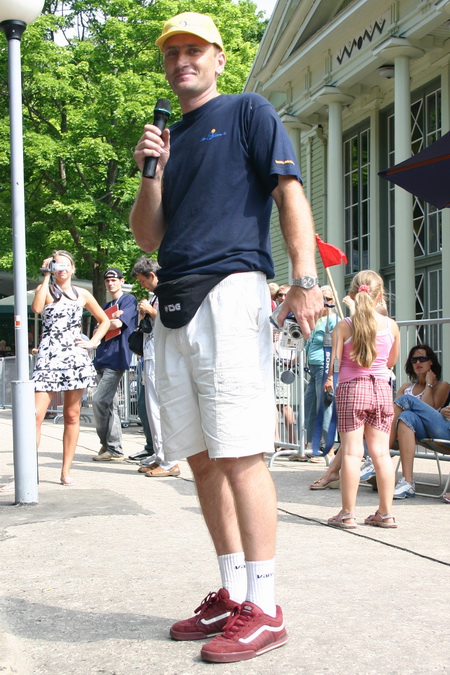 Gints Gailitis R.I.P.
[Feb 9, 2011 by Jani Söderhäll]
It is with great sadness we've learned of the death of Gints Gailitis. According to early reports he died from a heart attack at his home in the morning of February 9, 2011.
Gints was a solid ISSA supporter ever since his first reports into Slalom! magazines back in the 1980's when Latvia was still part of the Sovietunion, and almost noone knew where the country of Latvia was situated on a world map. Readers, primarily in western Europe, but also in the US, discovered that behind the iron wall there were plenty of skateboarders, and in particular plenty of slalomers! Gints with a foot in journalism with his work at Latvian TV and an interest in photography, reported results, photos and stories to Slalom! on a regular basis.
With the revival of slalom skateboarding in the years following the millenium shift Gints once again returned to promoting slalom in Latvia and elsewhere, and putting on races on local and international level, always with the same ease and perfection. Even, when hosting races and having done a full day of race organization, Gints would still have enough energy to organize our evening and make sure food was served and drinks were served while viewing todays TV broad cast with news reporting from the days races.
Always eager to organize and take care of friends and visitors Gints would host party games and typically the evening would end with some beach fun, with Gints always being among the last to bed.
Gints helped spread the stoke of slalom in Latvia, Europe and elsewhere also by making sure Latvian slalomers would be able to make it to events all across the world, ultimately creating racing stars such as confirmed racers Lienite Skaraine and Janis Kuzmins.
With his solid interest in racing, and despite never reaching the highest level for himself, Gints participated in more races then most of us and eventually managed to pass the bug onto his children Gustavs, Guntars and his daughters Eliza and Anna, whom we hope will carry the torch onwards.
With the sudden loss of Gints, slalom skateboarding has lost one of it's cornerstones and on behalf of the ISSA and it's board of directors and its co-workers I would like to present mine and our condoleances to Gints' wife, children and other members of the Gailitis family.
R.I.P.