Daniel Gesmer - USA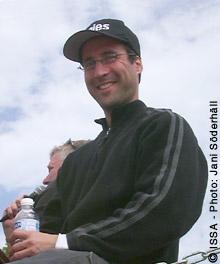 Skater, truck designer, writer, software developer, ballet expert, globetrotter and a great friend.
Dan has probably done more for the slalom revival than you might think. Ever since he released the first version of the Seismic truck he has been working on opening new horizons for skateboarding by talking to skaters, manufacturers and magazines. He is constantly in touch with a great number of skaters all over the world to encourage cooperation and share his ideas on the development of this sport.
Dan has also been instrumental in running many of the races during the last few years by handling the times and cone counts and calculating the final results. For this purpose he has developed an advanced spreadsheet which automatically handles qualification and head to head bracketing.
By giving the trucks a non conventional design and use springs rather than grommets he has even inspired other manufacturers to take a step away from the old 1970's truck design.
This year Dan will celebrate his 40:th birthday and what could be a more appropriate timing and location than days after the European Championships in Antibes, France and just days before the 2003 World Championships, Morro Bay, USA.
Dan recently wrote his own story for Concrete Wave magazine.
Dan's article in Concrete Wave, page 1
Dan's article in Concrete Wave, page 2
(Scanned and re-published with permission from Michael Brooke, Concrete Wave.)